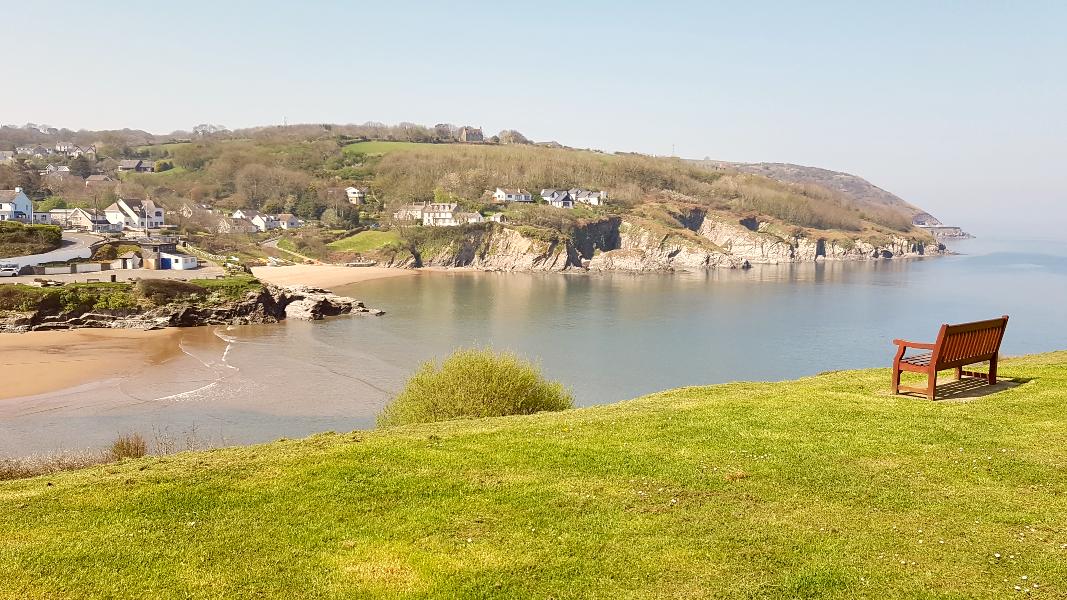 Aberporth Beach
1 Mile – 5 minute drive or just a 25-30 minute walk from the hotel
2 Beaches – Dyffryn (North – Big Beach) & Dolwen (South – Small Beach)
Dogs allowed all year – Dyffryn side only during 1st May to 30th September
Soft Golden Sand
Lifeguards – Summer months
Toilets & Shower
Cafes, Pub & Chip Shop
On the Wales Coast Path
Aberporth beach is just a short drive or 25-30 minute walk from the hotel either via the road or coast path. The road is the easier walk, once you're up out of Tresaith it's all flat and downhill to Aberporth. The road still offers lovely views out to Cardigan bay but the coast path is spectacular, offers some of the finest views on this stretch of coastline and gives you the opportunity of spotting some of our resident dolphins and seals. It is a harder route though with around 80 steps down to Tresaith and then a pretty steep climb on the coast path back up to the cliff tops. Once you're over this initial climb it is pretty flat and downhill to Aberporth. There are plenty of benches and a couple of picnic tables on the path, so there's plenty of opportunity to have a rest, stop for a drink or to just take in the views. The last 0.5 mile is a special accessible part of the path and offers smooth tarmac and little undulation. Dogs are welcome on the path but it is advisable to keep them on a lead at all times.

Aberporth beach has two car parks, both of which offer all day parking, but they're not that big so they do fill up quickly during summer holidays. The toilets, shower and outside tap are situated in the middle of the two car parks, with the disbaled toilet on the big beach side. There's direct access down to each beach from the car parks either down the slope, zig zag footpath or steps.

Aberporth beach is a beautiful golden sandy beach that actually offers two beaches – Dyffryn (big beach) and Dolwen (little beach) which are joined when the tide is out and separate when the tide's in. It's a very sheltered bay, protected by headlands on both sides, and offers one of the safest areas for bathing. Added to that, the beach is patrolled by Lifeguards in the summer months, checkout their Aberporth Beach Safety Information and their daily news board by the lifeguard hut for any hazards, sea conditions or weather warnings.

Aberporth beach is very popular with swimmers – cold water swimmers (all year round bbrrrr), open water and triathlon swimmers. It's also very popular for kayaking, bodyboarding, surfing, paddle boarding, sailing, windsurfing, water skiing, skimboarding, rock jumping, rock pooling and more. Paddle boards and kayaks are available to hire in summer. For surf gear head to Tonnau surf shop in Cardigan (6 miles).

Aberporth beach offers a great selection of places to eat and drink with options on both sides of the beach. Ship Aberporth is open all year round and offers beautiful views over Dyffryn beach and the village green headland opposite. The Cwtch Glanmordy is a seasonal cafe situated on the village green with views over both beaches. The Waterside cafe serves Dolwen beach and the chip shop is situated next to the pub.

Dogs are allowed on the beach all year, but just on Dyffryn (big beach) side between 1st May to 30th September. Dog waste bins can be found in the car parks and a fresh water tap is available for use at the toilet and shower block. The village green overlooking Dyffryn beach also offers a great area for exercising your dog, and the Driftwood Cafe just up the road offers a dedicated dog dining area and dog facilities.

The Wales Coast Path passes across the back of the beach, and walkers will regularly stop here for a break before carrying on to Tresaith (north) or Mwnt (south). If heading to Mwnt you need to climb one of the hills out of Aberporth heading for Parcllyn, go past the MOD base and you'll re-join the path.
Aberporth beach is probably the most popular beach on this coastline so it can get quite busy in summer, but with the two beaches available there's always plenty of space for all to enjoy and relax.