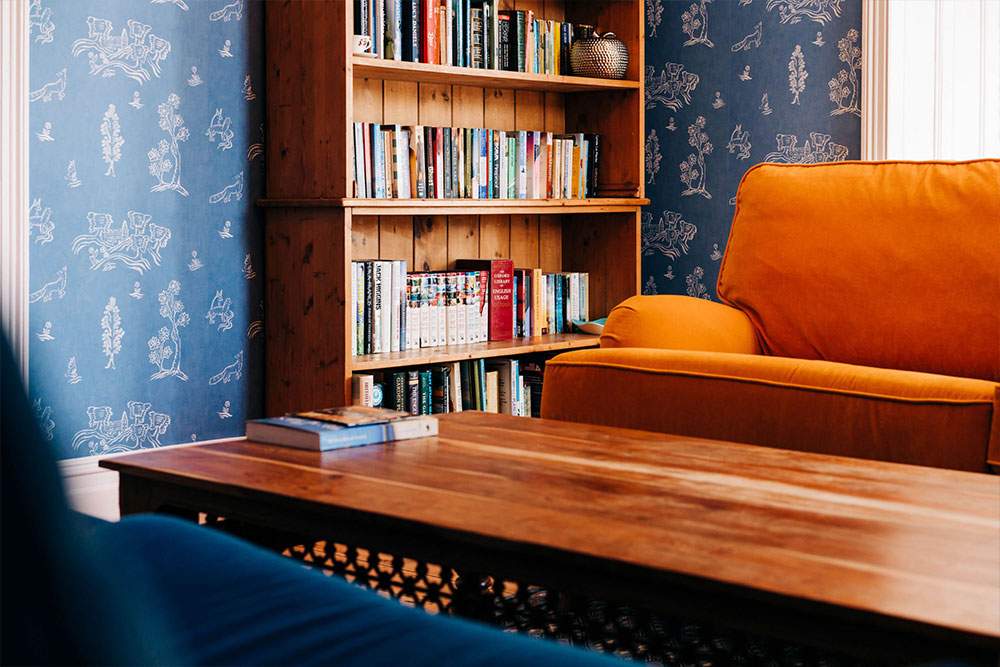 We love our guests – both humans and dogs, and nothing makes us happier than knowing that you've enjoyed your stay with us. Read what some of our guests thought about their stay at Bryn Berwyn, Tresaith & the local area.
'Fabulous surprise' – Rated 5/5

Beautiful accommodation in a peaceful setting. A modern, sympathetic restoration of a Victorian villa. Warm welcome. Comfortable rooms and beds. Wet room. 10 minute walk downhill to a stunning little beach. This is the place to visit for rest and relaxation.
Carolyn F – 27th April 2023
'A really good place to stay' – Rated 5/5

We had a lovely weekend in a beautiful building, with friendly, welcoming owners and excellent staff. The whole weekend was a joy, and we would recommend to anyone wishing to explore the Cardiganshire coast from a warm and spotlessly clean base. We wish you every success. Peter and Rosemary.
Peter C S – 24th April 2023
'SUPERB' – Rated 5/5

Had an incredible 4 night Easter break at Bryn Berwyn and it couldn't have been better. I think it was the staff that really made it, but everything, the room, the location, the breakfast and evening meals were all excellent. Can't say enough good things, we really appreciate everything you put into making our stay enjoyable and would come back in a heartbeat. Thank you!
Lucy I – 10th April 2023
'Excellent Stay' – Rated 5/5

We found this hidden gem during lockdown and have been returning time and time again. From the moment we arrived at Bryn Berwin Country House B&B, we were greeted with warm hospitality and felt right at home. The room my family and I stayed in was beautifully decorated, with comfortable beds and all the amenities we needed to make our stay enjoyable. The bathroom was sparkling clean and well-stocked with fluffy towels, robes and high-quality toiletries. One of the highlights of my stay was the delicious breakfast served each morning. The locally sourced produce and freshly brewed coffee were absolutely divine. In addition to the lovely accommodations, the bed and breakfast also had a gorgeous garden and outdoor seating area where we could relax and take in the beautiful scenery. The location was also ideal, situated in a peaceful and picturesque costal village of Tresaith, but still conveniently close to all the attractions and sites we wanted to visit. Overall, our stay at this bed and breakfast was an unforgettable experience, and I would highly recommend it to anyone looking for a cozy, charming, and welcoming place to stay. The hosts Henrietta and Will went above and beyond to make us feel at home, and we can't wait to return for another visit in the future.
Lucie S – 8th April 2023
'GREAT' – Rated 5/5

We had a lovely stay with our dog. It was refreshing you would never guess it was a dog friendly Hotel. rooms food staff all brilliant really enjoyed.
Gareth H – 31st March 2023
'Hidden gem!' – Rated 5/5

We booked the Bryn Berwyn totally randomly vis Hotels.com. And I m so glad we did. From the time we walked in it was obvious how much time, energy and love had been put into making first impressions count. The welcome from the young lady ( I m sorry I'm rubbish with names!), who was genuinely warm and welcoming explaining all we needed to know for our stay and showing us to our room. The quality of the room from decor to comfort is exceptional. All we needed to make our stay comfortable and enjoyable was there. A really lovely room. We have booked again to return to this wonderful place and am looking forward to being there in the summertime. A big thank you to all at Bryn Berwyn for a truly relaxing stay. See you in July!!
Joe – 18th March 2023
'SPOT ON' – Rated 5/5

From the time we arrived until the time we left we were made to feel at home. The effort Hen,Will and their team put in to make our stay special was fantastic. We eat at the hotel twice and on both occasions the food was excellent.We will be returning and spreading the word about this gem of a hotel. Many thanks again for making our short break so memorable.
Chris – 22nd February 2023
'WONDERFUL STAY' – Rated 5/5

Booked a 3 day stay with our young family (4 yrs and 10 months) An absolute gem of a place . Lovely room, beautiful food, nice touch with the bar – which was incredibly well stocked. What made the difference from other b&b's was the staff . Nothing was too much trouble, went out of their way to help and provided great service. This was from all staff, not just the owners so you can see that everyone wants to make you stay exceptional. Good location, beach 2 mins drive or 10 mins walk. It's great to see a young couple who have taken a risk to open this place presenting such a fantastic place to stay. Cannot recommend enough. Thanks to Henrietta, Will and ALL the team there.
Michael U – 19th February 2023
'WONDERFUL STAY' – Rated 5/5

Booked a 3 day stay with our young family (4 yrs and 10 months) An absolute gem of a place . Lovely room, beautiful food, nice touch with the bar – which was incredibly well stocked. What made the difference from other b&b's was the staff . Nothing was too much trouble, went out of their way to help and provided great service. This was from all staff, not just the owners so you can see that everyone wants to make you stay exceptional. Good location, beach 2 mins drive or 10 mins walk. It's great to see a young couple who have taken a risk to open this place presenting such a fantastic place to stay. Cannot recommend enough. Thanks to Henrietta, Will and ALL the team there.
Michael U – 19th February 2023
'GREAT' – Rated 5/5

We had a great time at this place. This is our first visit to this area of Wales and will definitely be back. Now the B & B… Staff are really good 10/10 and always there when you needed them and very attentive. The room was a good size with a view however, the bathroom was cold (towel-rail never worked) however, the shower was amazing and once going the room soon warmed up. The breakfasts were very good albeit we had cereal most mornings but the cooked (on our last day) was perfect. The evening meals were OK but you have to consider this is a small hotel/B & B so they are limited on their menu however, it was very good for the price. The Bar has some good local produce and I thoroughly recommend the local Gin, Whiskey and Beer. The B & B is just a short walk from the main village and beach and from here there are some spectacular coastal walks. If you drive 20-30 minutes you can also cover much of the coastal walks. There are also many inland walks – find the Book -Day Walks in the sitting room – recommend it. THE MAIN QUESTION.. WOULD WE STAY HERE AGAIN??? DEFINITELY.
Martin M – 17th February 2023
'Superb accommodation and brilliant service' – Rated 5/5

High quality accommodation, excellent food at breakfast and dinner, and a superb location. Best of all every member of staff was engaging, enthusiastic, determined to provide a great service and passionate about the hotel. Outstanding..
Neil – 31st December 2022
'Excellent stay at Bryn Berwyn' – Rated 5/5

Really enjoyed our stay. Lovely comfy room, good facilities, nice bar, excellent breakfast, friendly staff. And great to be able to take our dog who enjoyed the treats supplied. We'll be back.
Steve – 12th December 2022
'Absolutely lovely and very dog friendly' – Rated 5/5

Sea views and just 10 minutes walk from the Hotel to the beach at Tresaith down a footpath which, if you know the route, almost entirely avoids the road. With no cars zooming past you it's a really nice walk too. I stayed here with my border collie in November. There was even a doggy welcome pack, the provided dog bed was a little small but I had brought Hugo's own bed so it wasn't a problem. There was a grass paddock to exercise Hugo in next to the Hotel car park and a wash off hose and dog towel to use if needed. I had a lovely sea view from my room and the Full English breakfast was beautifully cooked to perfection. My bed was very comfortable, the room was warm, everything was spotlessly clean and the luxurious warm shower in the en suite was much appreciated, after a long days walking. Hotel had Netflix TV which was a treat for me, as we don't have this at home. The staff and owner were all really helpful and friendly. Highly recommend, and especially for holidays with your dog.
Stella – 9th December 2022
'Perfect in every regard' – Rated 5/5

Large car park, beautiful building and decor, happy and attentive staff, great facilities, excellent food and good value. Really couldn't fault any during our stay and will certainly be returning.
Stephen – 21st November 2022
'Lovely Stay' – Rated 5/5

Thanks for a lovely stay. We loved our room with its bold colour, tasteful furnishings, comfy bed and pillows. Thoughtful touches like bathrobes were appreciated. The bar, breakfast room , lounge and outside spaces were equally lovely. We had a great breakfast and all the staff were really friendly, helpful and professional. We would recommend without hesitation and will be back again. Thanks for a lovely rest.
Fiona – 20th November 2022
'Brilliant' – Rated 5/5

A wonderful place to enjoy a break. Staff kind and thoughtful. Made us feel so welcome. Great to be there to meet Nancy, the latest member of the family. Would recommend Bryn Berwyn to everyone. Anne and Roy
Roy – 20th November 2022
'WONDERFUL!!' – Rated 5/5

I cannot say enough about how much we loved staying at Bryn Berwyn. The owners are incredibly welcoming and warm, the room perfect for our family, and the meals (both breakfast and dinner) really lovely. It was also the perfect location to explore the area. We will absolutely be coming back!
Jessica – 27th October 2022
'Very impressive!' – Rated 5/5

Bryn Berwyn is a lovely B&B run and staffed by the most helpful, polite, pleasant and professional team. Upon arrival you are greeted with a warmth one would expect when visiting a lovely family home but also with the cleanliness and excitement of a wonderful getaway. We particularly enjoyed the quietness of the area and the wonderfully and tastefully decorated rooms. The breakfast was delightful and the staff were present and always available but were not overbearing. I fully recommend Bryn Berwyn.
Paul E – 17th October 2022
'Absolutely amazing weekend' – Rated 5/5

Well what can I say, everytbing was absolutely perfect. The room was spotless The hotel is stunning and Will and Hen The owners are so lovely. I have no fault with anything. We are returning in December that's how much we loved it. Worth every penny and more.
Angie & Lulu – 3rd October 2022
'Absolutely amazing' – Rated 5/5

I took my wife away to Bryn Berwyn for our 40th wedding anniversary. After a four hour drive we were not disappointed. Arrived at 7 pm but it was no trouble for the staff to get us a meal.The accomadation was really comfortable and the rooms were tastefully decorated .Breakfast and the evening meals were superb We will return again with out doubt. The staff are all very friendly and a nice walk to the sea
Roger and Lynda – 26th September 2022
'A Lucky Find' – Rated 5/5

A friendly welcome awaits when you arrive at Bryn Berwyn .. from the first conversation with the helpful owners to the final goodbye. Our stay was for 2 nights at this beautifully renovated country house and nothing was too much trouble for the staff . We enjoyed a hearty breakfast and a tasty home cooked evening meal . Our room was a family room , number 2. Beautifully decorated and a comfortable nights sleep in a large bed with a good supporting mattress . The en suite w.c and shower is compact but surprisingly spacious . Tresaith is a gem. A small beach with spectacular rock pools and cliffs that rise up from the beach. It is not commercialised which adds to the ' back to nature ' experience that we love. We will be heading back to Bryn Berwyn again for sure.
Andrew Edwards – 20th September 2022
'Perfect overnight stay' – Rated 5/5

We were staying in anglesey for two weeks but decided to break our stay for a couple of days to visit two of our favourite places Pentre Ifan and St Dogmaels Market weather was great but the hotel we could not fault great food friendly staff very clean and comfortable we also had our dog with us and was made to feel very welcome Thank-you Kathy
Kathy Lodge – 18th September 2022
'Wonderful stay in a perfect location' – Rated 5/5

Bryn Berwyn B&B is modern, super clean and has everything you would want for a few nights away in a beautiful coastal location. The team were friendly and welcoming and the food and service was spot on every time. The family room was nicely decorated, well laid out with comfy beds and a lovely view of the sea. Dogs are well catered for and welcomed throughout. Overall, we thoroughly enjoyed our stay and we will definitely be back – thank you!
Simon Bedwell – 1st September 2022
'Wonderful Location' – Rated 5/5

We thoroughly enjoyed our stay and will definitely go back. We took our dog for a short break and found that the hotel was indeed very 'dog friendly'. There were several other couples who had they their dogs with them and the atmosphere in the hotel was very relaxed. It was very straightforward to eat whilst looking after our dog – both full English breakfast or evening meal – because the dogs are allowed in the bar and on the decking area. The layout of the decking area is a stroke of genius! Due to the lie of the land, you are sitting in tree-top shade with a wonderful view over the bay. We found the staff and the owners to be very friendly, obliging and polite. We were made to feel very welcome.
Huw Jones – 21th August 2022
'Super stay' – Rated 5/5

We had a lovely week at the Bryn Berwyn in July. We, and our dachshund, were made really welcome , the staff are so friendly. The room was spotless ,as was the rest of the hotel. Breakfasts were excellent, set us up for the rest of the day. The evening meals were tasty and freshly prepared, very enjoyable. We would visit again but would ask for the ground floor room which would be easier with a dog. The dog bed, towel and bowl, plus treats were a nice touch too .We could have done with a few more clothes hooks/ hangers for our belongings as there was no wardrobe. One point I would raise is that the hotel is ten minutes from the beach going down, coming back is another matter as the hill is very steep . No one else said it was a problem but, at 80, I found it difficult. However, this won't stop us from returning. Thank you everyone for a good time.
Liz Roche – 13th August 2022
'Excellent' – Rated 5/5

Great location near Tresaith beach. Hotel is spotless and has been superbly renovated. Very cosy. Great facilities including library and board games for the children. Breakfast and evening meals were also really good.
Jonathan Allen – 31st July 2022
'Enjoyed our stay immensely' – Rated 5/5

A clean, comfortable & modern small hotel. Henrietta, Will & their staff were very friendly & accommodating. There was a good choice of both cooked & cold breakfast food available. The full English breakfast was generous & beautifully cooked & we especially liked the Artisan bread. Our room was not en-suite [private bathroom opposite], but an alternative room was offered, albeit at a higher rate. All in all we enjoyed our stay immensely & would have no hesitation in staying there again. We wish Henrietta & Will all the best for their future plans.
Susan Read – 27th July 2022
'Brilliant short break on beautiful Welsh coast' – Rated 5/5

Made to feel very welcome by the friendly and helpful staff. Looked forward to returning to our lovely room after a day exploring the beautiful coast. Given great recommendations of places to eat out each evening. Spent our last night sitting out on the decking of The Ship Inn at Tresaith, watching porpoises giving a display in the bay, as we enjoyed a superb evening meal. Thank you, we shall visit again soon.
Jane Russell – 16th July 2022
'Perfect weekend break!' – Rated 5/5

Booked last minute, what a gem of a place. From arrival to leaving, could not have asked for better service from Will and Henri and their team. Location perfect, room perfect and beautiful decor throughout. Bryn Berwyn is a great location to explore the Cardigan Bay area and is walking distance to Aberporth and the lovely Tresaith beach. We will be recommending this to our friends!
Tim Evans – 13th July 2022
'Impressive!' – Rated 5/5

Thank you B.B.C.H. team! What a wonderful little hiedaway, so close to the Sea in such a quiet spot. We felt at home here from start to finish & wished we could've stayed longer! It's a very clean, comfortable, stylish & well managed Country House that I would highly recommend & return to in a heartbeat. Well done team …. you know how to offer service & provide a 'home from home' atmosphere. We will return, Sarah & Phil x
Sarah Cook – 4th July 2022
'Warm welcome at boutique hotel in quiet coastal location' – Rated 5/5

We stayed for a family reunion as a party of six adults, with some complex dietary and mobility requirements, all of which were catered for with ease. Henrietta was efficient and welcoming, as were all the staff, and was great at recommending local amenities. Although a limited menu, dinner was well prepared and reasonably priced. Breakfast was of a high standard, especially the bacon! The beach is an easy walk away and we enjoyed some super coastal path walks – even saw a dolphin!
Jayne Sharif – 28th June 2022
'Comfortable B and B' – Rated 4/5

The Staff were very accommodating when we arrived later than anticipated due to our long and extended journeys as guests to a Family Wedding. Friendly and efficient staff and the delicious breakfasts made our stay very pleasant. A bigger double bed would have helped for a more comfortable nights sleep but rooms were immaculately clean. Great location a few minutes walk to a lovely beach.
Sue Carande – 27th June 2022
'A comfortable and friendly B&B with top breakfasts!' – Rated 5/5

We stayed at Bryn Berwyn to complete the section of the Welsh Coastal Path that runs from New Quay to Cardigan. The location was perfect and the cliff walks are just beautiful. You can even get buses on a Friday and Saturday to various points along the WCP so you only have to walk one way! The accommodation is lovely, newly renovated and spotlessly clean. Our room was nicely decorated with quirky wallpaper and had tea and coffee making facilities with fresh milk in a cute little urn. The bed was super comfy and the shower spacious. The breakfasts were fantastic! I worked through the menu and loved the eggs florentine and full vegan breakfast, very tasty! We ate at the hotel one night too and really enjoyed our meal which was well priced and freshly prepared. However, it was the people at Bryn Berwyn who really made the stay. The hosts Will and Henrietta are very friendly and helpful and were very supportive when my husband badly sprained his ankle. But all the other staff were lovely too and couldn't do enough to help! We are definitely going to return and big thanks to everyone!
Sue Brewster – 14th June 2022
'WONDERFUL stay' – Rated 5/5

We had a lovely stay at Bryan berwyn country house. It's situated really close to a small and charming beach with a waterfall and several great coastal paths. The house itself is really welcoming due to the recent refurbishment, the nice interior and the friendly staff who were very professional whilst making us feel at home. The whole property had all the mod cons required for an enjoyable stay. The room was really quiet, stylish and comfortable. We highly recommend the Bryn Berwyn country house and will soon visit again; thank you for a great time
Nele Nagels – 8th June 2022
'Beautiful Tresaith bijoux hotel' – Rated 5/5

Our party of 9 had four rooms. Wonderful welcome with complimentary drink. Freshly decorated and modern vibe. Appetising food and very attentive service. Very close to the beautiful and unspoilt beach. I wish we could have stayed longer. Thank you all of your wonderful team.
Janice Hennessy – 4th June 2022
'Great place and great hosts' – Rated 5/5

We originally booked our stay over the Easter bank holiday, however, immediately after we checked in and unpacked, we had to drive back to Leeds due to a family emergency. The couple who run the hotel are so lovely, they said we could rebook free of charge at a time to suit even though we had already checked in. & that we did, we returned on Sunday after a fab overnight stay in a spacious, clean, well decorated dog friendly room. (they even leave some dog treats in a bowl and a doggy blanket) I would definitely say this is a dog friendly hotel, not a dog 'tolerant' hotel like others we have stayed in before. Breakfast the next day was top notch too, we will definitely return!! Thank you for a wonderful stay. 🙂
Emma Wiltshire – 9th May 2022
'There's a welcome in this hillside' – Rated 5/5

Run by Will and Henrietta, a charming and enthusiastic young couple, Bryn Berwyn is an excellent base for exploring Ceredigion's wonderful Marine Heritage Coast. Clean, comfortable and with a friendly, relaxed atmosphere.
Peter West – 4th May 2022
'Excellent B&B (5 Star)' – Rated 5/5

Bryn Berwyn Country House is a real gem, luxuriously comfortable, scrupulously clean with a lovely relaxed holiday vibe generated by the friendly, helpful staff. My teenage daughter and I had a fabulously spacious family room with a massive bay window overlooking treetops and hillside to the sea. The room was warm and bright and very well equipped with teas/coffee, bathrobes, hairdryer – even delicious Welsh cake on arrival! We stayed two nights with breakfast both mornings and dinner on our first evening. The standard of catering is remarkably good – the best falafels I've ever had (seriously!), and I highly recommend the Eggs Florentine. (My daughter ate from the child's menu and recommends everything especially the brownie and ice cream!). An excellent break. Thank you Hen and Wills and the Bryn Berwyn Team. See you all again very soon.
Mary Cronin – 2nd May 2022
'A very happy stay' – Rated 5/5

We spent three nights. The whole place was spotless. We were made very welcome [and our black labrador]. Breakfast was delicious and enormous. Visited the beach for an hour each morning, which was [end of April] dog-friendly. Managed to find car-parking, although this could be difficult in high season. Youngsters could easily walk from the hotel.
Rod and Janet Walters – 2nd May 2022
'Probably One of the Delightful Boutique Hotel in Tresaith near Cardigan' – Rated 5/5

We had a really delightful stay at this charming boutique hotel , the lovely Will and Henrietta have done a fabulous job with this beautiful house retaining much of it original features and embracing old and new … the room we booked was a dog friendly one , and our family members had the next room which had fabulous wallpaper and a fabulous bathroom both rooms were clean with crisp bed linen ours had a large shower and everything you need inc hairdryer and a nice touch was a dog bed and treats. The bar area where we had complementary drinks inc local beers and lounge were our favourites with views of the bay in the distance. The ten minute walk down to the beach was lovely bit tough after a few drinks but well worth it but if coming back late maybe take a torch or use your phones we loved the walk back in the clear star studded sky, it was one of our highlights all of us being townies. The Breakfast that Will served the next morning was delicious , three welsh breakfasts and one Eggs Benedict which we all thoroughly enjoyed , plentiful choices from cereal fruit , yogurt and juices etc . The cliff top walk to Aberporth was truly enjoyable with a pint or two in The Ship before our walk back . Sadly we didn't make the evening meal back at the hotel but we definitely will next time , we ate at the Ship (A Brains pub) in Tresaith which has amazing views and sunsets , no local beer sadly and we found the food to be nice enough . The position of Bryn Berwyn is fantastic with New Quay, Cardigan and Poppit Sands all within easy reach and all a must if staying here. Thank you all for a really fabulous time we will return but for longer next time.
Claire Jones – 24th April 2022
'Probably One of the best' – Rated 5/5

We stayed over the Easter weekend and just the best stay, a warm and friendly welcome from the fantastic staff, nothing was too much bother. The room was well appointed and clean, tea, coffee, bottled water and some Welsh cakes too. Breakfast each morning was beautifully cooked with vegan and veggie options – delicious! It's just a short walk (8 minutes) to Tresaith beach and stunning walks along the coastal path. If you're looking for somewhere to stay in this area then this is it, highly recommended! We will be back.
Sue Baron – 19th April 2022
'Lovely place close to the beach' – Rated 5/5

My husband and I took my daughter and our three dogs for the weekend and had a lovely time. We were made to feel very welcome and the owners were exceptionally friendly and helpful. The rooms were very clean and nicely decorated would definitely recommend.
Dawn Craven – 22nd March 2022
'Great' – Rated 5/5

Excellent, great staff, great food, great location, great everything.
Amardeep Sahajpal – 2nd March 2022
'What a Gem' – Rated 5/5

Please read ALL of this review. What a gem of a place. We booked because of the previous reviews, being dog friendly and the stunning location. Our party consisted of two adults and a 11 month old Irish Red Setter called Copper. It certainly lived up to all the reviews. Our room was a dog friendly room, it was spotless. Coffee & Tea available in the room and bottled water. Even for our dog Copper, there was a bed, towel, dog treats, dog bowl and even poo bags, the hosts thought of everything 🙂 The room itself was comfy, clean and warm. The bathroom was big for an en-suite and had a shower/wet room. Again beautifully clean. Breakfast was included each morning for our stay. Alongside the cooked selection choices, fry up including a vegan version there was Bagels and Croissants. You could help yourself to the cereals, yogurts and fruit. Fresh juice also available and of course Tea and Coffee. We ate at Bryn Berwyn on our last night and it was fantastic. It was hot, tasty and more than generous in portion size. My hubby recommends the sticky toffee pudding 🙂 I have left the best to last, the hosts Henrietta and Will, they both went above and beyond. Hen showed us round the house and to our room, was still working when we returned back to the house after taking Copper out for a walk and gave us a free alcoholic drink which was really appreciated. Will printed off maps and suggested the beaches to take Copper and even found my hubby's phone on the beach ! They both took the time to talk to us and made us feel really welcome. They deserve this to be a success. Wendy also deserves a mention. Every morning Wendy looked after us with our breakfast and always had a smile waiting for us. We will definitely be going back.
Teresa Rowstron – 26th February 2022
'Very comfortable with excellent hosts' – Rated 5/5

We stayed for one night while travelling the Welsh coast and what a find!

Will and Henrietta have done a fantastic job of the hotel styling and put a lot of thought into making your stay enjoyable. The hotel bar was stocked with a great selection of drinks and the breakfast menu had plenty of choices. We will definitely be staying again.
Emma Williams – 5th December 2021
'Never mind the weather' – Rated 5/5

The facilities are precisely as described both on the site and by the photo gallery. The staff are a joy.
Tresaith is a real hidden gem. In all a perfect relaxed and informal retreat. Oh …and the best poached eggs ever!!
Many thanks
George Morgan – 1st November 2021
'SUPER GOOD' – Rated 5/5

Accessable room //wheelchair accommodation lounge bedroom and wetroom, highly recommended with easy access for breakfast and the bar. Henrietta, Will and all the staff could not have been more helpful during our four day stay. thanks to all
Emlyn Rees – 10th October 2021
'A warm Welsh welcome at a luxury B&B' – Rated 5/5

We had a brilliant stay at Bryn Berwyn, thank you/Diolch!

The welcome was warm and friendly but very relaxed. We have a toddler but always felt at home, despite the the luxurious setting. The house has been beautiful refurbished with a high quality, stylish finish. The wallpaper alone is worth a visit!

We had an amazing meal and breakfast. The dinner (Moules-frites with a lovely Sauvignon blanc from Chile) was excellent and very reasonably priced. And the breakfast (eggs benedict) were perfectly executed, with huge glasses for the juice! The service was attentive but relaxed.

Our room was large, stylish, great bathroom and amenities. The pillows were a little too soft for my taste, but we all slept really well. To be fair, this is the only slight issue I had, and I've no doubt if it really bothered me, the staff would have sorted it immediately.

The bar also stocks gin made about a mile away, which is in keeping with their ethos of high quality, locally sourced produce. It was also really nice to hear Welsh being spoken by the staff, since Tresaith is in the Welsh speaking heartland of West Wales.

I had a morning swim at Tresaith beach, and would recommend guest explore the surrounding area. This is an exceptionally stunning part of Britain and should be better known frankly!
I would go back in a heartbeat and will recommend this B&B to everyone I know! I have received no bribe for this gushing review! I just thought it was worth the time tell others.
Geraint Jones – 27th September 2021
'Top marks!!' – Rated 5/5

The owners (Henrietta and Will) and all their staff are wonderful, very welcoming and friendly, nothing was too much for them.

As their website states, dogs are made really welcome, beds, bowls, treats and towels provided + they have an outdoor 'shower' for washing the dogs down.

The house is extremely well furnished and decorated, with a large dining room comfortable lounge and bar. Our bedroom (room1) was large, very clean and furnished/decorated to a high standard.

The house is located on a hill about 10 minutes walk from the beach and a pretty good pub, it has a large garden and parking area; and great views of the sea.

We were provided with plenty of useful information about places to visit, pubs and eateries; on two occasions, we had evening meals at the house, which were great – I particularly liked the curry! The breakfasts were fantastic, with plenty of choice.

All in all, top marks!!
Phill Barnett – 24th September 2021
'Lovely stay lovely hotel lovely staff' – Rated 5/5

We had a fabulous long weekend break at Bryn Berwyn. The owners were fabulous, really welcoming and happy to guide and advise you on what to do and where to go. Other staff members were from and really helpful. Bedrooms very comfortable and spotless. Our dog was made very welcome as well.

Breakfast was super and evening meals looked great even though we ate out. Next time we will eat in on our first night and skip the pub down the road on the beach.

Ideal location for beach, walks and visiting near by places. Highly recommend this hotel. We will definitely visit again.
Mellie Pottle Iddon – 21st September 2021
'First time to stay' – Rated 5/5

Excellent stay. Rooms spotlessly clean. Very friendly staff First class food. Will return
Alan Mee – 14th September 2021
'FAbulous guest house in lovely location' – Rated 5/5

Very nicely refurbished guest house beautifully designed. We had room 2 with a view of the sea and lots of space. The owners local knowledge of walks and beaches was invaluable and we were directed to a 'secret cove' where we were fortunate enough to swim with a local seal just a few feet away. An unforgettable experience.
Ian Smart – 11th August 2021
'FABULOUS' – Rated 5/5

Wow. Bryn Berwyn ticks all the right boxes. Hen, Will and their fabulous team are friendly and always happy to help. The rooms are gorgeous. Beautifully decorated and comfortable. Especially loved the bespoke hand made clothes rail. Will's breakfasts were incredible and set us up for the day. Would have no hesitation in recommending Bryn Berwyn.

We will definitely visit again.
Sue Ellams – 9th September 2021
'Excellent' – Rated 5/5

Excellent service with lovely touches – welsh cakes, welcome drink etc. Clean and beautifully decorated. All staff very friendly and helpful.

Thoroughly recommended
Ann Canham – 31th August 2021
'Super stay' – Rated 5/5

Luxurious accommodation with beautiful sea views. Menu limited but what we had was very nice, including breakfast.

Julie Dharamshi – 29th August 2021
'A very good find!' – Rated 5/5

A rather last minute break in West Wales led us to Bryn Berwyn – and how glad we were to have booked it. Recently refurbished throughout, we were told, and this was clear from the moment we stepped through the door of our dog-friendly ground floor room (8) actually a suite, where complimentary Welsh cakes awaited and furnishings, bed and bath/wet-room were all to a very high standard. Particularly appreciated the 'rainforest' shower and from the fittings I assume the room is also suitable for wheelchair users/guests of limited mobility. We chose to eat out but the cooked
breakfasts were delicious and plentiful. A well stocked bar (incl choice of local gins) made our stay that much better on our return.

Staff very helpful about directions to places of interest. We will recommend to friends who are planning visit to the area. Tresaith beach is a short walk down the hill (its also a long walk up!!)

Waterston – 25th August 2021
'Fabulous' – Rated 5/5

A lovely welcome to our stay, all the staff were very friendly and helpful. Lots of space for Rocky our black lab on site and in the room. Great to have the option to eat in the evening on site. Lovely location, we will be back
Suzy Lloyd – 23rd August 2021
'Very enjoyable' – Rated 5/5

Excellent: nice welcome and pleasant environment. Very enjoyable and convenient for beach and walks etc.

Prof Jeffrey Newton – 18th August 2021
'SUPERB' – Rated 5/5

On arrival we were met with a smiling face and a warm welcome. The place was spotless and very comfortable. The food was excellent and plentiful.

The bed was comfortable and could not fault our stay. Would highly recommend.

Andy – 16th August 2021
'Unexpected delight' – Rated 5/5

Fantastic place – young couple, Will & Hen who run this gem, have worked so hard so give it a make over and the decor is wonderful. They were so welcoming & helpful too. Excellent breakfasts. Lovely spot with the beach just down the road complete with waterfall onto it!

Alison Latham – 15th August 2021
'A LITTLE COSY HAVEN' – Rated 5/5

Such a beautiful, welcoming retreat for a few days. Our room was a little small but cosy. Great place for walking & to wonder down to the beach.

Probably a little holky for some but perfect for us. Loved it. Staff were so lovely. Thank you

Lorna Barrow – 13th August 2021
'Fantastic' – Rated 5/5

Lovely warm welcome to a hidden gem in beautiful surroundings. The place itself has been renovated with a contemporary style and is spotlessly clean. The staff were all so friendly.

I'd highly recommend this place to travellers, young and old.

Mrs Polly – 9th August 2021
---
Third Party Reviews
Google

Rated 4.9 out of 5 stars on Google – Read Reviews