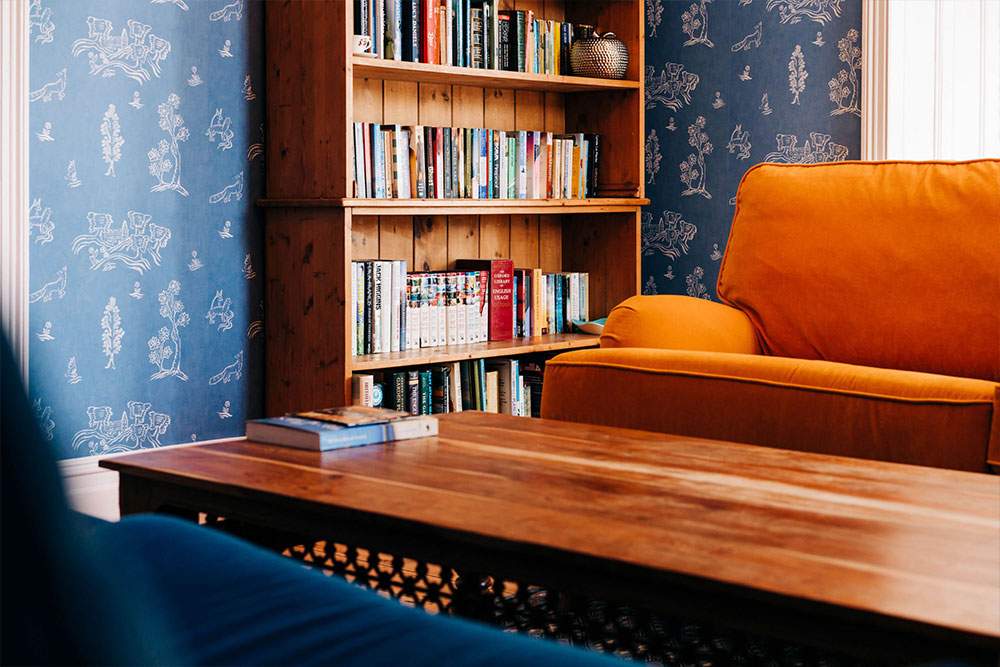 We love our guests – both humans and dogs, and nothing makes us happier than knowing that you've enjoyed your stay with us. Read what some of our guests thought about their stay at Bryn Berwyn, Tresaith & the local area.
'Never mind the weather' – Rated 5/5

The facilities are precisely as described both on the site and by the photo gallery. The staff are a joy.
Tresaith is a real hidden gem. In all a perfect relaxed and informal retreat. Oh …and the best poached eggs ever!!
Many thanks
George Morgan – 1st November 2021
'SUPER GOOD' – Rated 5/5

Accessable room //wheelchair accommodation lounge bedroom and wetroom, highly recommended with easy access for breakfast and the bar. Henrietta, Will and all the staff could not have been more helpful during our four day stay. thanks to all
Emlyn Rees – 10th October 2021
'A warm Welsh welcome at a luxury B&B' – Rated 5/5

We had a brilliant stay at Bryn Berwyn, thank you/Diolch!

The welcome was warm and friendly but very relaxed. We have a toddler but always felt at home, despite the the luxurious setting. The house has been beautiful refurbished with a high quality, stylish finish. The wallpaper alone is worth a visit!

We had an amazing meal and breakfast. The dinner (Moules-frites with a lovely Sauvignon blanc from Chile) was excellent and very reasonably priced. And the breakfast (eggs benedict) were perfectly executed, with huge glasses for the juice! The service was attentive but relaxed.

Our room was large, stylish, great bathroom and amenities. The pillows were a little too soft for my taste, but we all slept really well. To be fair, this is the only slight issue I had, and I've no doubt if it really bothered me, the staff would have sorted it immediately.

The bar also stocks gin made about a mile away, which is in keeping with their ethos of high quality, locally sourced produce. It was also really nice to hear Welsh being spoken by the staff, since Tresaith is in the Welsh speaking heartland of West Wales.

I had a morning swim at Tresaith beach, and would recommend guest explore the surrounding area. This is an exceptionally stunning part of Britain and should be better known frankly!
I would go back in a heartbeat and will recommend this B&B to everyone I know! I have received no bribe for this gushing review! I just thought it was worth the time tell others.
Geraint Jones – 27th September 2021
'Top marks!!' – Rated 5/5

The owners (Henrietta and Will) and all their staff are wonderful, very welcoming and friendly, nothing was too much for them.

As their website states, dogs are made really welcome, beds, bowls, treats and towels provided + they have an outdoor 'shower' for washing the dogs down.

The house is extremely well furnished and decorated, with a large dining room comfortable lounge and bar. Our bedroom (room1) was large, very clean and furnished/decorated to a high standard.

The house is located on a hill about 10 minutes walk from the beach and a pretty good pub, it has a large garden and parking area; and great views of the sea.

We were provided with plenty of useful information about places to visit, pubs and eateries; on two occasions, we had evening meals at the house, which were great – I particularly liked the curry! The breakfasts were fantastic, with plenty of choice.

All in all, top marks!!
Phill Barnett – 24th September 2021
'Lovely stay lovely hotel lovely staff' – Rated 5/5

We had a fabulous long weekend break at Bryn Berwyn. The owners were fabulous, really welcoming and happy to guide and advise you on what to do and where to go. Other staff members were from and really helpful. Bedrooms very comfortable and spotless. Our dog was made very welcome as well.

Breakfast was super and evening meals looked great even though we ate out. Next time we will eat in on our first night and skip the pub down the road on the beach.

Ideal location for beach, walks and visiting near by places. Highly recommend this hotel. We will definitely visit again.
Mellie Pottle Iddon – 21st September 2021
'First time to stay' – Rated 5/5

Excellent stay. Rooms spotlessly clean. Very friendly staff First class food. Will return
Alan Mee – 14th September 2021
'FAbulous guest house in lovely location' – Rated 5/5

Very nicely refurbished guest house beautifully designed. We had room 2 with a view of the sea and lots of space. The owners local knowledge of walks and beaches was invaluable and we were directed to a 'secret cove' where we were fortunate enough to swim with a local seal just a few feet away. An unforgettable experience.
Ian Smart – 11th August 2021
'FABULOUS' – Rated 5/5

Wow. Bryn Berwyn ticks all the right boxes. Hen, Will and their fabulous team are friendly and always happy to help. The rooms are gorgeous. Beautifully decorated and comfortable. Especially loved the bespoke hand made clothes rail. Will's breakfasts were incredible and set us up for the day. Would have no hesitation in recommending Bryn Berwyn.

We will definitely visit again.
Sue Ellams – 9th September 2021
'Excellent' – Rated 5/5

Excellent service with lovely touches – welsh cakes, welcome drink etc. Clean and beautifully decorated. All staff very friendly and helpful.

Thoroughly recommended
Ann Canham – 31th August 2021
'Super stay' – Rated 5/5

Luxurious accommodation with beautiful sea views. Menu limited but what we had was very nice, including breakfast.

Julie Dharamshi – 29th August 2021
'A very good find!' – Rated 5/5

A rather last minute break in West Wales led us to Bryn Berwyn – and how glad we were to have booked it. Recently refurbished throughout, we were told, and this was clear from the moment we stepped through the door of our dog-friendly ground floor room (8) actually a suite, where complimentary Welsh cakes awaited and furnishings, bed and bath/wet-room were all to a very high standard. Particularly appreciated the 'rainforest' shower and from the fittings I assume the room is also suitable for wheelchair users/guests of limited mobility. We chose to eat out but the cooked
breakfasts were delicious and plentiful. A well stocked bar (incl choice of local gins) made our stay that much better on our return.

Staff very helpful about directions to places of interest. We will recommend to friends who are planning visit to the area. Tresaith beach is a short walk down the hill (its also a long walk up!!)

Waterston – 25th August 2021
'Fabulous' – Rated 5/5

A lovely welcome to our stay, all the staff were very friendly and helpful. Lots of space for Rocky our black lab on site and in the room. Great to have the option to eat in the evening on site. Lovely location, we will be back
Suzy Lloyd – 23rd August 2021
'Very enjoyable' – Rated 5/5

Excellent: nice welcome and pleasant environment. Very enjoyable and convenient for beach and walks etc.

Prof Jeffrey Newton – 18th August 2021
'SUPERB' – Rated 5/5

On arrival we were met with a smiling face and a warm welcome. The place was spotless and very comfortable. The food was excellent and plentiful.

The bed was comfortable and could not fault our stay. Would highly recommend.

Andy – 16th August 2021
'Unexpected delight' – Rated 5/5

Fantastic place – young couple, Will & Hen who run this gem, have worked so hard so give it a make over and the decor is wonderful. They were so welcoming & helpful too. Excellent breakfasts. Lovely spot with the beach just down the road complete with waterfall onto it!

Alison Latham – 15th August 2021
'A LITTLE COSY HAVEN' – Rated 5/5

Such a beautiful, welcoming retreat for a few days. Our room was a little small but cosy. Great place for walking & to wonder down to the beach.

Probably a little holky for some but perfect for us. Loved it. Staff were so lovely. Thank you

Lorna Barrow – 13th August 2021
'Fantastic' – Rated 5/5

Lovely warm welcome to a hidden gem in beautiful surroundings. The place itself has been renovated with a contemporary style and is spotlessly clean. The staff were all so friendly.

I'd highly recommend this place to travellers, young and old.

Mrs Polly – 9th August 2021
---
Third Party Reviews
Google

Rated 4.9 out of 5 stars on Google – Read Reviews