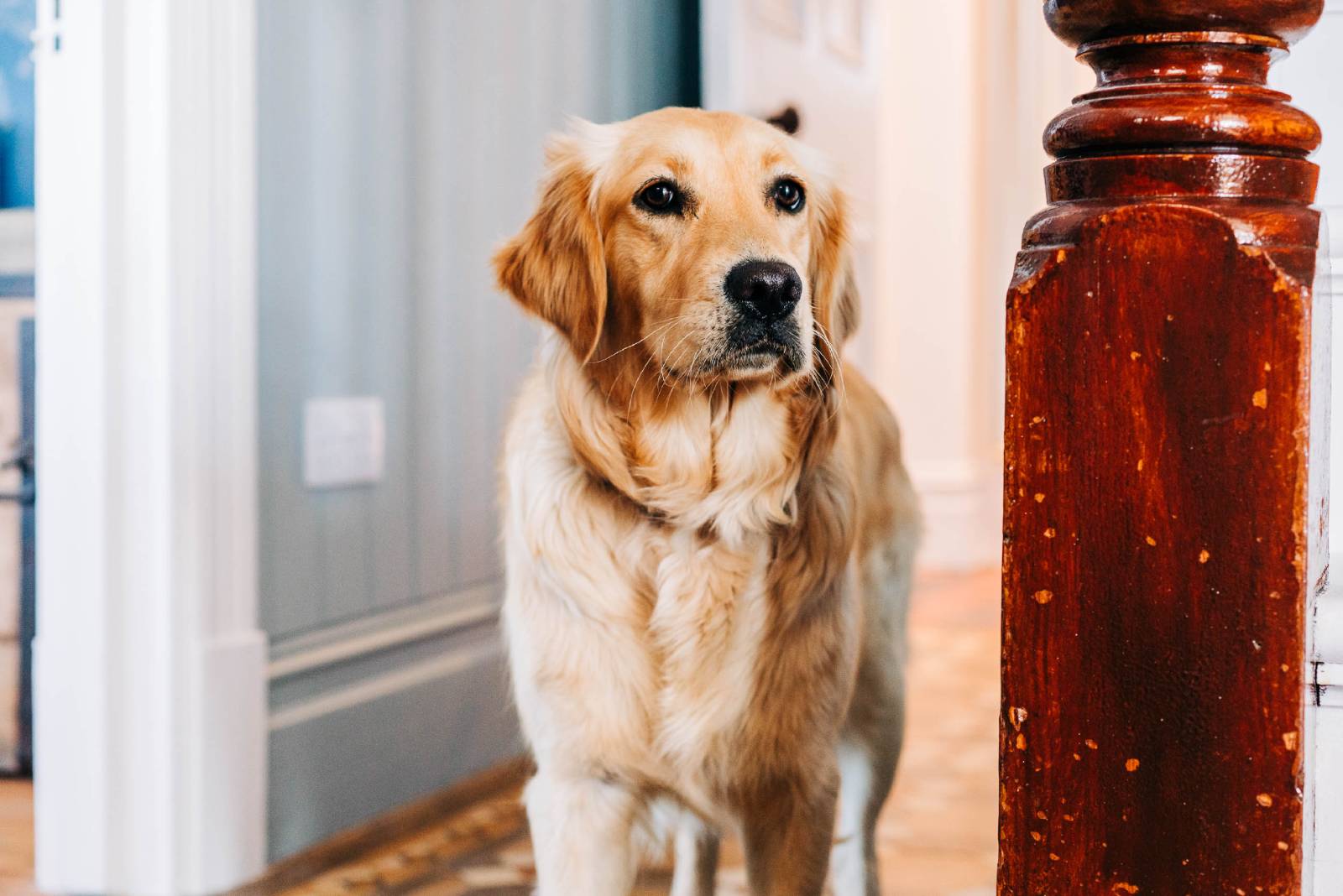 Dog Friendly
Dog Friendly Hotel in Wales
We're a dog friendly hotel in Tresaith, Cardigan, West Wales. We offer dog friendly holidays in Wales for those looking to escape to a beautiful coast and country location in Cardigan Bay.
We're big dog lovers here at Bryn Berwyn so we would be delighted to welcome you with your dogs to stay at our country house hotel. We've allocated 4 rooms that offer dog friendly accommodation, dogs are also welcome in most other areas of the hotel including in the bar, decking area, drawing room and upon special request the breakfast room.
If you have any special needs or requirements for your Dog please do feel free to ask us and we will do everything we can to make their stay and yours the best we possibly can!
We provide dog beds and bowls in all our dog friendly rooms.
We have dedicated refrigerated storage and freezer space for any fresh/frozen dog food that you may need to bring with you.
We always have dog food and dog meals available if you run out or forget to bring any with you.
We provide dog poo bins and we will be installing a "dog poo" composter in our field along with "poop Scoop" to reduce our usage of plastic bags.
We have some brilliant walks right on our doorstep, enjoy quiet country lanes and nearby woodland walks. Just opposite our entrance is a style that takes you on to a footpath that leads you across a field, over a stream and through the woods to the top of Tresaith beach.
Dog Welcome Pack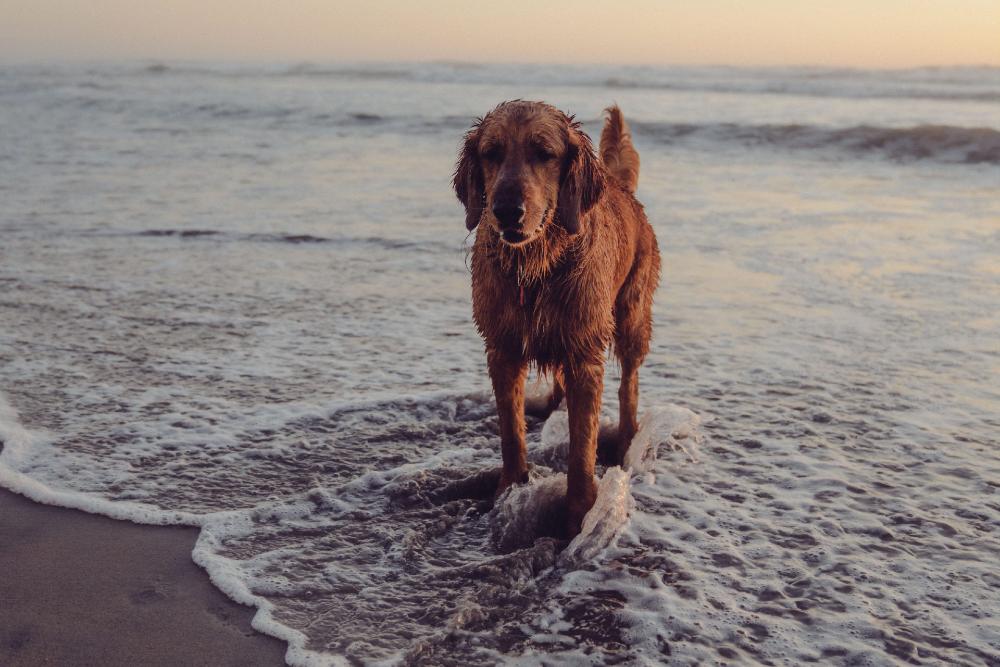 Dog Friendly Beaches
Tresaith and the surrounding area of Cardigan Bay really is a dogs paradise. If you're looking for dog friendly hotels in Wales by the sea, then look no further. With a selection of beautiful sandy dog friendly beaches to choose from, woodland walks and of course the Wales Coastal Path on your door step, the hard bit is going to be deciding on which one to do each day.
Dog Friendly Beaches in West Wales
Tresaith Beach (0.5m) – Dogs allowed all year (one side only during 1st May to 30th September).
Aberporth Beach (1m) – Dogs allowed all year (right side only during 1st May to 30th September).
Penbryn Beach (2m) – Dogs allowed all year (right side only during 1st May to 30th September).
Penbryn National Trust Woodland (2m) – Dogs allowed all year.
Llangrannog Beach (4m) – Dogs allowed all year (one side only during 1st May to 30th September).
New Quay Beach (13m) – All year on Dolau Beach & Traeth Gwyn, Harbour Beach (1st October to 30th April).
Mwnt Beach (7m) – Dogs allowed 1st October to 30th April (Not allowed during Summer).
And don't worry about your dog getting too muddy, wet or sandy, we have a warm outside dog shower and tap to wash them down and we provide you with a dog towel to ensure a clean entry back into the hotel.
Wherever your day out takes you, whatever dog adventures you go on, take comfort in knowing that a relaxing and luxurious evening awaits you on your return.
Our Dog Friendly Hotel Rooms
An additional fee of £15 per dog, per stay applies.
Well Behaved Dogs Only.
Reviews From Guests With Dogs
Fantastic – My wife and I went with our 2 Golden Retrievers for 6 nights in July 2023 and had a great time. Henrietta, Will and the staff team were all brilliant – very friendly and super helpful. Fantastic accommodation, very good food and a super location with a lovely beach a 10 min walk away – what's not to like. Thanks for a great time.
Mike – July 2023

Wonderful Friendly Small Hotel – We spent 10 days at Bryn Berwyn with our dog. The staff were friendly and helpful. Breakfasts were great. Rooms recently refurbished were comfortable. Views down to the sea. Strongly recommend. Hope to return in the not too distant future.
Colin – June 2023

Fantastic find – Lovely hotel with a modern vibe in a beautiful location. Really nice staff couldn't do enough for us. Great for the dogs too. Food was good. Definitely be back and recommend.
Ben – April 2023

ABSOLUTELY LOVELY & VERY DOG FRIENDLY – Highly recommend, and especially for holidays with your dog. Stella – Dec 2022

WONDERFUL STAY IN A PERFECT LOCATION – Dogs are well catered for and welcomed throughout. Overall, we thoroughly enjoyed our stay and we will definitely be back. Simon – Sept 2022

GREAT PLACE AND GREAT HOSTS – spacious, clean, well decorated dog friendly room. (they even leave some dog treats in a bowl and a doggy blanket) I would definitely say this is a dog friendly hotel, not a dog 'tolerant' hotel like others we have stayed in before. Breakfast the next day was top notch too, we will definitely return!! Emma – May 2022
Dog Policy

& RULES

As much as we love having dogs to stay with us at Bryn Berwyn, we do have to have rules to ensure the comfort and enjoyment of all our guests. Not all of our guests will be dog owners, so please be respectful and follow our policies.
Maximum of 2 well behaved dogs per room.
We do not allow dogs to be left in the room unsupervised at any time.
Please do not let your dog on the beds or on the bedding.
Please do not allow your dog to enter the hotel if they are mucky or wet after a walk. A dog towel is included in the surplus charge of adding a dog onto the booking. We have an outside warm shower and tap that you can wash your dog with.
Please keep our gardens clean for the benefit of others by disposing of your dogs waste into our bins.
Any damages made by dogs will be charged to the credit card of the booking.
Enjoy staying in one of the best dog friendly hotels in West Wales