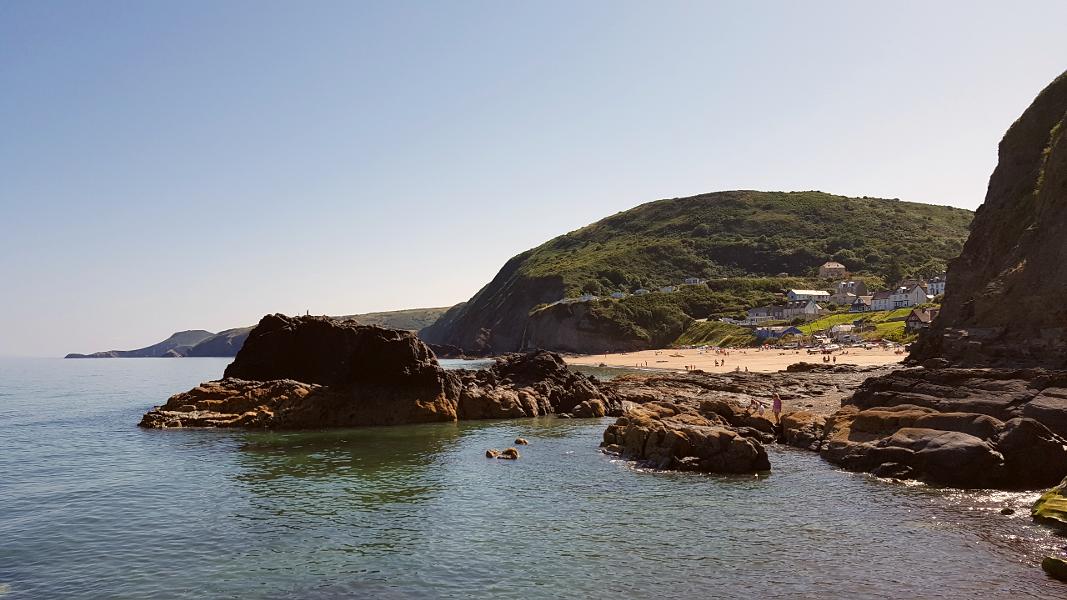 Tresaith Beach
(0.5m) A 2 minute drive or just a 5-10 minute walk from the hotel
Dogs allowed all year (one side only during 1st May to 30th September)
Sandy
Tresaith Waterfall
Toilets & Shower
Cafe & Pub
On the Wales Coast Path
Tresaith beach is the nearest beach, just a 2 minute drive or a 5-10 minute walk from the hotel. You can follow the country road down to the beach front, or if walking, from the top of Tresaith there's a pedestrian footpath with around 80 steps straight down to the beach front. There's very limited parking on the beach front, and it can get very busy during the holiday season. There's a public car park at the top of Tresaith where you can park all day.

Tresaith beach is a sheltered sandy beach that sits at the bottom of Tresaith village, flanked on both sides by steep cliffs. The cliff top to the right is home to Cardigan Bay's most breathtaking natural feature Tresaith Waterfall – where the River Saith comes to a dramatic end flowing over the cliff top, it really is breathtaking!

The beach offers golden sand, breathtaking scenery and plenty of space for all to enjoy. During late spring and summer months, Tresaith enjoys the most beautiful sunsets which can be enjoyed around a fire on the beach, or with a drink at the Ship Inn Tresaith. Tresaith frequently enjoys dolphin sightings, and sometimes the whole pod comes to play in the bay.

As well as the Ship Inn Tresaith, there's also a beach cafe which sells snacks, drinks and icecreams, as well as beach toys, equipment, clothing and beachwear. In the summer there's also a burger van offering a great selection of breakfast and lunch burgers.

Tresaith beach offers safe bathing and is patrolled by Lifeguards during the summer, checkout their Tresaith Beach Safety Information and their daily news board on the slip for any hazards, sea condition or weather warnings Lots of water sports are enjoyed here including; swimming, kayaking, bodyboarding, surfing, paddle boarding, sailing, windsurfing, jet skiing, skimboarding, rock jumping and lots more. No equipment rental is available currently so you will need to bring your own gear.

Dogs are allowed on the beach all year, but just on one side between 1st May to 30th September. Dog waste bins can be found in the car park and a fresh water tap is available for use at the toilet and shower block.

The Wales Coast Path passes across the back of the beach, and walkers will regularly stop here for a break before the steep climb out either to Penbryn (north) or Aberporth (south). Tresaith beach is one of the highlights of this coastline and many will stroll down the beach to see and take photos of Tresaith waterfall.

Tresaith beach really is a fantastic pace to play, explore and relax, and it's just 2 minutes from the hotel!