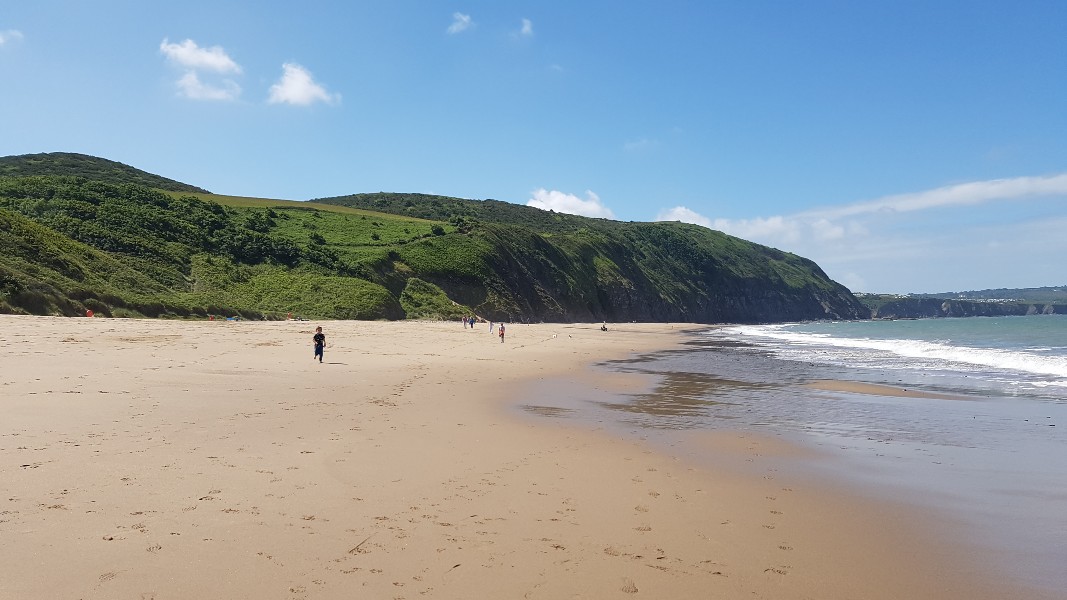 Penbryn Beach
1.5 Mile – 6 minute drive or just a 30 minute walk from the hotel
National Trust 
Dogs allowed all year – Right side of stream only during 1st May to 30th September
Soft Golden Sand
Woodland walks
No Lifeguards
Toilets 500 yards up hill
Cafe 500 yards up hill
On the Wales Coast Path
Penbryn beach is a large sandy National Trust beach just a 6 minute drive or 30 minute walk from the hotel either via the road or coast path. The road is the easier walk, although there are still a few hills to climb, but the coast path route from Tresaith to Penbryn is superb, its a short steep climb to start but it offers beautiful views over Tresaith and some of the finest views of Cardigan Bay – from Aberporth to Llangrannog and beyond. The final descent leads into beautiful woodland where you can either keep left to head straight for the beach, or take a right to head for the Cafe and toilets. Dogs are welcome on the path but it is advisable to keep them on a lead at all times.

Penbryn beach has two car parks, the main one around the Plwmp Tart Cafe and toilets and an overflow car park field on the road down to the beach.  Both are chargeable (free for National Trust Members), and the main car park offers a couple of EV chargers for electric car charging. The beach is a 500 yard walk down the road with a fairly steep downhill section, alternatively you can take the woodland walk that follows the stream down to the beach, there are a few steep sections on this route too, but this way is a lot more fun, especially if you have children or dogs. If you have lots of gear to take down the beach, you can drive right down to the beach and unload quickly in the turning circle, and then drive back up and park.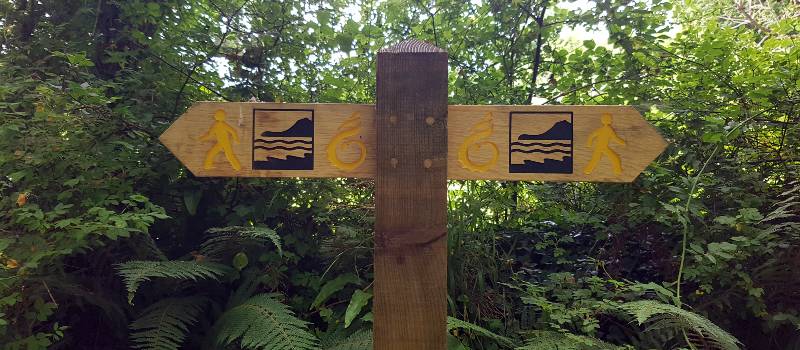 Penbryn beach is a large sandy beach that's split in two by a steam. Dogs are allowed on the right side of the beach all year. The beach offers loads of space even at low tide, but when the tide is out the shoreline stretches for over a mile and you can even access another beach, which we highly recommend if you get the opportunity. Penbryn beach does not have any Lifeguards on patrol, so please check the weather and keep an eye on the sea conditions.

The Plwmp Tart Cafe is located in the main car park and offers a great selection of light bites, drinks, ice-cream, cakes and more. There is seating indoors and outside, and dogs are welcome.

The Wales Coast Path passes through the car park, and walkers will regularly stop here for a break before carrying on to Tresaith (south) or Llangrannog (north).

Penbryn is one of the quieter beaches in the area due to its location and accessibility but it does still get quite busy in Summer, but thanks to the size of the beach there is always plenty of space for all to enjoy and relax.

Penbryn in Autumn and Winter is one of our favourite places to visit with the dogs, they absolutely love it here!