Llangrannog Beach
3.5 Miles – 12 minute drive or 2 hour walk via the coast path from the hotel
2 Beaches – Llangrannog & Cilborth (accessible via the beach at mid/low tides or via the coast path at high tide)
Dogs allowed all year – Right side of the stream only during 1st May to 30th September
Pebbles at the very top of the beach then all sand
Lifeguards – Summer months
Toilets & Shower
Cafes, Pubs, Chip Shop, Pizza, Shop
On the Wales Coast Path
Llangrannog beach is a beautiful sandy beach that actually offers two beaches – Llangrannog and Cilborth which are joined when the tide is out and separate when the tide's in. Between the beaches you'll see the iconic, and well photographed rock called Carreg Bica. Llangrannog beach is patrolled by Lifeguards in the summer months, checkout their Llangrannog Beach Safety Information and their daily news board by the lifeguard hut for any hazards, sea conditions or weather warnings.

Llangrannog beach is just a 10 to 15 minute drive from the hotel. There are several routes to get you there. Some are better than others depending on your vehicle size, exactly where you want to go and the time of year. The shortest route via Morfa is quite narrow in places and does involve a sharp hairpin turn as you make the final descent into Llangrannog. You'll need to concentrate here and try not to get distracted by the breathtaking view over the bay and out to Ynys Lochtyn as you negotiate the bend. This brings you in at the south end of the beach and during busy periods it can be tricky to get through and find parking. You'll most likely need to try and pass through the village and head for the Park & Ride car park on the other road into Llangrannog. The second option is slightly longer and still contains a couple of very tight turns, but not as tight and steep as the first route. This route is also better during busy periods as it brings you passed the Park & Ride car park. For larger vehicles like motor homes and buses, the recommended route is via Pontgarreg.

The coast path from Tresaith to Llangrannog is spectacular. It is a strenuous section of the path but it offers some of the best views on this stretch of coastline. You'll start with a climb up out of Tresaith until you reach the cliff top, the path then flattens and slowly descends all the way down into Penbryn. It's another climb then out of Penbryn and across fields until you make your way down to Traeth Bach (a highlight of the walk), there are steep steps down and back up out of Traeth Bach, but once you climb to the top again it's a flat and gradual downward path into LLangrannog. Dogs are welcome on the path but it is advisable to keep them on a lead at all times.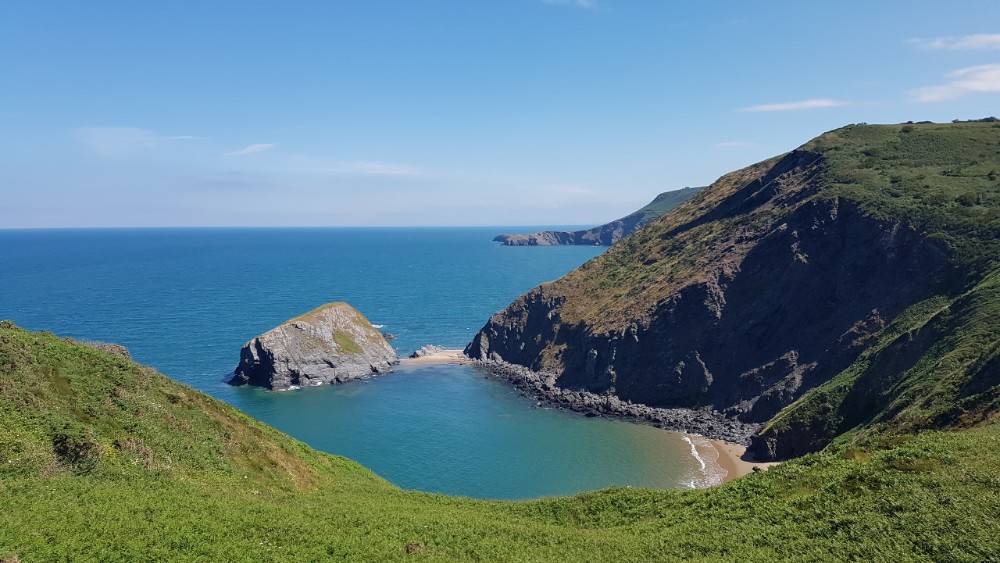 Llangrannog beach has two car parks, one right on the beach front which is quite small and fills up quickly. This is operated via camera and pay machine. The second car park is a large Park & Ride or Park & Walk field up the hill on the edge of the village. Park & Ride operates during peak seasons. Llangrannog toilets, shower and outside tap are situated to the side of the beach car park. There's direct access to the beach from the car park or via the slope next to the shelter.

Llangrannog beach is very popular for tourists so can get very busy in Summer. It's very popular for kayaking, bodyboarding, surfing, paddle boarding, sailing, windsurfing, water skiing, skimboarding and more.

Llangrannog beach offers a great selection of places to eat and drink. The Pentre and Ship Llangrannog are open all year round. The Pentre is an award winning pub and is literally a road's width from the beach. The Patio and Beach Hut are also both on the seafront and offer an excellent choice of ice creams, cakes, lunches and evening meals. Tafell a Tan is a superb Pizza restaurant and Pizza takeaway shop. There is also a chip shop and a general goods shop.

Dogs are allowed on the beach all year, but just on right side of the stream between 1st May to 30th September. Dog waste bins can be found in the car parks and a fresh water tap is available for use at the shelter and toilet block. And as a passionate dog friendly hotel in West Wales, don't worry about your dogs getting sandy, we have outside dog washing facilities available.
The Wales Coast Path passes across the seafront, and walkers will regularly stop here for a break before carrying on to Aberporth (south) or New Quay (north).

Llangrannog is one of the most popular villages on this coastline, and due to its size it can get very busy in summer, but with the park and ride (or walk) available and the choice of places to eat and drink, it's always a great place for all to enjoy and relax.